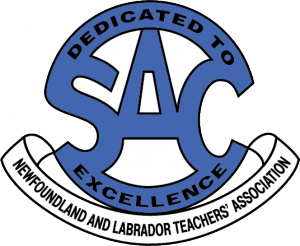 SAC Provincial Election 2023-25
Candidates
---
PRESIDENT
Nancy Healey
September 2000-June 2012: Classroom Teacher (Newtown Elementary, Villanova Jr. High, Paradise Elementary, Roncalli Elementary)
September 2012-June 2018: Assistant Principal (St. Andrew's Elementary, Octagon Pond Elementary)
September 2018-Present: Principal (Admiral's Academy, Hazelwood Elementary, Mary Queen of Peace Elementary)
SAC Region 10 President 2014-2018
– Planned PL Lunch and Learn Sessions for Admin/Program Specialists, Retirement Celebrations for Region 10 Administrators/Program Specialists
Member of CAP 2018 planning committee (This conference had the highest number of delegates over the last 12 years)
Member of SAC Provincial Executive (2018-present)
VP 2018-2020
Communications 2020-present
– Emcee of SAC Provincial PL for Administrators and Program Specialists (George Couros and Susan Murray)
– Member of SAC-NLESD-NLTA Safe Return to School Team
NLTA SIC Leadership Training 2022
Queen's University IRC- Workplace Restoration Course 2022
Since becoming a member of SAC at a regional level over a decade ago, I have learned of the power of Administrative collegiality and networking. In my first Administration role as Assistant Principal of St. Andrew's, my Principal introduced me to SAC and encouraged me to become actively involved as it offered the opportunity to form essential connections with colleagues. Since this time I have been determined in my commitment to Administrator and Program Specialist Advocacy. I have fulfilled all necessary roles as classroom teacher, Assistant Principal and Principal that will allow me to hear issues and develop solutions with my teammates. Given the honour of becoming SAC President, I would continue to advocate for conditions to support Administrative wellness, recruitment and retention efforts within our field and create professional learning opportunities intended to help us learn from one another.
Dave Penney
My name is Dave Penney and I have been a SAC regional executive since 2004. I started on the west coast with SAC region 10 and upon returning to CBN helped rejuvenate SAC region 9, where I have been a communications officer for 13 years. Our region, under the Presidency of Dr. Kevin Giles, were provincial executives for 2010-12 with many others who are nominated in this election. I am currently President of region 9.
With the many changes to the education system and the subsequent increase in our workload, our issues need to be at the forefront of the NLTA's concerns. I have always been a team player and our collective voice needs to be heard. As some of you may know, I do not mind speaking my mind and rocking the boat. If elected, I will ensure that everyone is wearing a life jacket.
---
VICE PRESIDENT
Christina Cox-Hearn
2002-2007: NLTA Teacher Rep, I.J. Samson
2004-2014: St. John's Centre Branch Exec Member
2008-2014: TESIC Exec Member
2014-2016: Communications/Political Action/Membership Engagement
2016-2018: Membership Benefits & Services
2010 Aug: Developing Successful Schools Delegate
2014-2018: SAC Region 10 Exec Member
2017: Bancroft Award Winner Recipient
2018-2022: Provincial SAC Exec Member
2021-2023: Standing Committee for Substitute Teachers
It is with great pleasure that I, Christina Cox-Hearn, accept the nomination of vice-president for the Provincial School Administrators' Council for 2023-2025. To assist you in your decision making I thought it is best to provide you with my involvement with SAC.
Since I began working as an administrator in 2014, I became involved with SAC Region 10. From 2014 to 2018, I assisted with numerous initiatives with this council to support administrators in Region 10 either through PL opportunities like Lunch and Learns, conferences, etc. Also, I was afforded the opportunity to attend the Prov SAC conferences where I met numerous administrators from across this province.
In 2018, I was very fortunate to move into the role of Communication Office with Provincial SAC. We organized CAP 2018 Navigating Uncharted Waters: Keeping an Even Keel. Our team was very proud to welcome administrators from across this country and internationally. Our team demonstrated to all delegates that as Newfoundlanders we are proud trailblazers when it comes to education. This Conference was the most successful national CAP Conference to date.
Continuing in 2019, Prov SAC taking direction from our administrators, met several times with NLESD officials as part of the NLTA SAC-NLESD Liaison Committee to advocate for administrators regarding workload issues. After multiple sessions, the increasing demands being put on the administrator was acknowledged by NLESD. Various outcomes that came from these meetings include streamlining information requests to administrators, limiting access to administrators from outside agencies and the allocation of Principal leave in lieu of time served. The current workload advocating still continues today.
Also, I was part of Newfoundland and Labrador's Administrator Delegation to CAP 2019 which was held in Whitehorse, Yukon. This provided the opportunity to meet other administrators and to see that other areas of this vast country were grappling with educational issues such as attendance, academic performance, and staffing shortages to list but a few. These are some of the same issues that currently face administrators and it is imperative that we look beyond ourselves to seek possible solutions to help ease the burdens that we deal with every day.
2020 is a year as administrators that none of us will ever forget. The challenges thrown at administrators during COVID were unheard of and consequently many struggled. Prov SAC took a lead role in advocating for administrators and this really was reflected in the SAC-NLESD Safe Return to School Planning Consultation in preparation for Fall of 2020. Although no one was prepared for a pandemic, once again administrators demonstrated their leadership skills and led their staff, students and school communities through many unknowns. They were the voices that Prov SAC heard and relayed to the employer.
As a Prov SAC member now in the role of membership/engagement since 2020, I have worked with our team to try to reach out to administrators to establish the biggest concerns facing admins and to try to build capacity in this field. Already recognizing the staffing shortages, we acknowledge that the role of administrator can be very daunting so we continue to advocate for the creation of a system where individuals will take the leap and enter into the role of administrator. We continue to celebrate our committee awards of Principal, Vice-Principal and Student of the Year to focus on the positive relationships and experiences that are happening. As administrators, we will continue to overcome various obstacles and offer the students of our province a quality academic program and social emotional support.
Finally, I would appreciate your vote so that I can continue to be part of a committee which advocates for the trench level needs of administrators.
Thank you in advance for your consideration and vote. 
Rodney Hodder
Hi, my name is Rodney Hodder, Principal at Carbonear Collegiate on the Avalon Peninsula. I live in Carbonear with my wife Tina, I have three adult daughters and four grandchildren.
My teaching experiences have brought me from the coast of Labrador, Great Northern Peninsula and finally to the East Coast including small k-12 schools to large metro high schools. My administrative experience includes 10 years as a Department Head, 1 year as a Program Specialist, 4 years as an Assistant Principal and 6 years as Principal.
I have been an active member of SAC for the past six years serving as communications officer for SAC Region 9 in Avalon West. We have been a very active executive organizing numerous professional learning activities including time management, wellness, and difficult conversations in addition to social activities such as weekend retreats at "The Wilds" and Christmas Events. I would like to continue similar activities at the provincial level as Vice President of the Provincial SAC executive. We would like to bring together administrators from all over Newfoundland and Labrador for a face-to-face provincial SAC conference with authentic professional learning and engaging social events.
With all the upheaval in our education system, with more challenges to come, it is critical that we have a strong cohesive voice to ensure that our viewpoints are respected and addressed. If elected to the provincial SAC executive I will work diligently on behalf of all administrators to achieve the goals of our organization.
Thank You.
---
SECRETARY
Wanda Cassell
My name is Wanda Cassell, let me introduce myself as your potential secretary in the upcoming School Administrators Council election. I am a dedicated leader/administrator that will contribute my time and skill set and put forth my greatest effort to serve the mandates of the School Administrators Council (SAC).
I have completed two masters programs, literacy and counseling psychology, and have 24 years of teaching experience within the K-6 area with an extended amount of time in administration roles. This experience has provided me with ample opportunities for curriculum based teaching and assessment for all grades. I have a wealth of knowledge of all curriculum aspects throughout the K-6 area. Throughout my leadership journey, analysis and application in instructional planning was undertaken on a daily basis. In my role as a Learning Resources teacher I have garnered much experience working with colleagues from a wide variety of backgrounds. It is perhaps one of my great qualifications for Secretary. I have worked collaboratively with many teachers to successfully meet professional, curricular and personal objectives. My teaching career has provided me with opportunities to interact with individuals and groups who, like myself, are committed to advancing the educational environment in our schools.
It is my goal to further my knowledge and enhance my experience by working for SAC. With proper distribution of resources and educational materials I am convinced we can offer quality education to all students within the district. Relationships are the keystone of education. Trust, communication and integrity are paramount, whether the person is a child, parent, community member or colleague. Effective teaching practices, driven by the desire to improve students' achievement, reflects the qualities of an active, life-long learner with a growth mindset, all of which I am proud to be.
I understand the responsibilities of being on a council (in previous years I was vice president of the substitute council) and would relish the opportunity to continue to share my knowledge and expertise. I will align with the goals of SAC to offer resources and collaborative means to help with minimizing the challenges we may face, such as, the discovery of new means to secure more teachers to take on a leadership role. I believe through advocacy for all school administrators we can and will minimize our obstacles. I will work with the other members to further SAC goals as we go forward together. With a combination of my many years of experience, ability to be a compassionate, enthusiastic, conscientious teacher/leader, and a desire to impart the knowledge I have acquired to others, I will make a positive contribution.
I would be the perfect candidate because I am dedicated, I am organized, I am trustworthy and I am a hard worker. And don't forget "Take note, the right vote is Wanda Cassell for Secretary" Thank you!
Linda Hart
My name is Linda Hart and I am the current principal at St. John Bosco School. This is my seventh year as principal at SJB. Prior to that, I did 5 years in administration as both assistant principal and principal at Holy Cross Junior High. Prior to my administration positions, I was French/Math teacher for 16 years. I was a long time member of SAC region 10 (2014-2018) as Vice President. I also have been part of Provincial SAC from 2018-present. In my first term on Provincial SAC, under the leadership of Christina Pike, I served as an at large member. In my second term, under the leadership of Dale Lambe, I served as secretary for this group. My membership in SAC at both levels have been educational and rewarding.
Election Statement
As an administrator in this province, I feel strongly that our Provincial SAC group is a wonderful avenue to have our voices heard. As administrators, no matter what part of the province you work in, we share similar concerns regarding administrative workload, human resources, communication, and the impact that recent changes have had on our staff. I am happy to be part of this group as they advocate for their members.
I would like to take on role of secretary as I am well organized, concise, and believe in the importance of communication.
---
TREASURER
Leanne Morrissey
My name is Leanne Morrissey and I am the principal of St. Peter's Primary in Mount Pearl, Newfoundland and Labrador. I have been an educator for over 23 years and an administrator for 13 years. I am currently serving as the treasurer on SAC Provincial's Team. I have been serving in this role for four years and have maintained an organized record of all financial transactions and statements providing annual reports to the council. I am happy to continue in this role and if given an opportunity to be part of the SAC Provincial team again, I would be glad to contribute my time and efforts in making a difference. I thank you for your consideration and hope that you will vote for me as the SAC Provincial Team Treasurer.
Eddie Russell
My name is Eddie Russell and I am currently in my 25th year of teaching with the last 17 in administration roles, currently in my 7th year as principal of Roncalli Central High School in Avondale. I have been a SAC Region 9 executive member since 2016 and its treasurer for the last 5 years. I have seen first hand the importance of regional and provincial School Administrator Councils as they provide support, as well as valuable Professional Learning opportunities for administrators all across our province.
Changes in education have resulted in increased responsibilities, workload, and stressors for administrators, while we receive less resources. I am putting my name forward to join a strong team with a loud voice who will have the best interests of administrators in mind as we advocate with NLTA to make sure our concerns are heard and acted upon. I respectfully ask for your support in the upcoming SAC Provincial Elections 2023 for the position of Treasurer.
---
COMMUNICATIONS
John Barrington
09/2000 – 06/2018: Classroom Teacher (MacDonald Drive Elementary, Goulds Elementary, Beachy Cove Elementary, Roncalli Elementary)
10/2016 – 04/2017: Assistant Principal (Roncalli Elementary)
04/2018 – 06/2018: Assistant Principal (Roncalli Elementary)
09/2018 – 11/2018: Assistant Principal (Admiral's Academy)
09/2018 – 06/2021: Assistant Principal (Hazelwood Elementary)
09/2021 – Current: Principal (Admiral's Academy)
As a fairly new principal, I have quickly come to realize how important SAC is when it comes to being a strong advocate for administrators and program specialists. I also understand how important it is to have a network of other administrators with whom one one can liaise with. Given these two important understandings, if given the opportunity to be a part of SAC provincial, I plan to work hard communicating administrator and program specialist needs and concerns as well as ensuring that membership is aware of the wonderful things happening as it pertains to administrators and program specialists.
Charlene Caines
Fellow Administrators,
My name is Charlene Caines. I am a candidate for the position of Communications Officer for the Provincial School Administrators Council. I am currently in my fourth year as an Assistant Principal at Carbonear Academy.
Prior to my time in administration, most of my career has been spent in the realm of Student Support Services in various leadership roles including: Program Specialist and Department Head.
My time in Student Support Services instilled a passion for technology integration, in particular assistant technology. As such, for the duration of two terms I served as an executive with the Technology Special Interest Council (TESIC) in the positions of Treasurer, Vice President and Acting President. For the duration of my terms with TESIC we provided many professional learning events such as the Summer Institute of Technology Integration in 2014 and 2015 as well as Science Technology Engineering Mathematics (STEM) Fest in 2016. The combination of technology integration, Students Support Services and my role in the executive created unique opportunities for professional growth.
I believe technological systems can play a key role in reducing the workload as well as eliminating barriers amongst school administrators. Given my joint passion for technology and administration I feel I can add a unique perspective on the changing world of leadership.
The days of working in isolation are over, administrators need to be connected to each other. We are at a critical time in our educational system, the decisions we make today will pave the road for all administrators. If given the opportunity, I am committed to help pave the way to a brighter future for current, as well as future educational leaders. A strong provincial School Administrators Council is key to ensure positive changes, I feel I can make a positive contribution to our Provincial SAC team.
---
REGISTRAR
Todd Crane
My name is Todd Crane and I am currently the Principal of Immaculate Conception School in Colliers. For the past 16 years I have been an active member of the School Administrators' Council (SAC) both at the Branch and Provincial levels. I am currently the outgoing Vice-President of Provincial SAC since 2020. I have also fulfilled the role of Registrar during a previous term (2012) on Provincial SAC. In 2020 I was awarded the SAC Distinguished Principal of the Year. I am a strong advocate/voice for administrators around the Provincial table and will continue to be. The next couple of years will enviably bring further challenges for administrators as we transition into the Department of Education. Administrator workload has been front and center during Provincial discussions for the past couple years, and we need to keep this at the forefront.
With your support I will continue to advocate for administrators in Newfoundland and Labrador at the Provincial level. I kindly ask for your support as I seek the position of Registrar.
Janette Pomroy
My name is Janette Pomroy, I am currently a Program Specialist with Student Services. For the last 16 years I have been a school administrator in both the Principal and Assistant Principal role. Prior to administration, I taught throughout K-12 as a classroom and special education teacher.
I was awarded the Distinguished Principal of the Year for 2021-2022.
From the start of my administrative career, I have been an active member of SAC. I have been Co-Chair of SAC Region 10 and a Member-at-Large. I served on SAC Provincial from 2018-2020. I believe in professionally working with all stakeholders in education.
Election Statement
Working collectively as administrators and program specialists has allowed us to shed light on the challenges and opportunities that come with our positions; work life balance and wellness. Our united, professional voice needs to be raised to support the recruitment and retention of administrators and program specialists.
The Green Report states one of the streamlining measures is to "Ensure principals, vice principals, and other supervisory staff are not members of the Newfoundland and Labrador Teachers' Association (NLTA)" (Parfrey & Davis, 2021, pg. 47).
Now is the time to strengthen our membership, support our new administrators and program specialists. To lobby to keep us in the NLTA and to not be seen as managers. We are educational leaders.
The Registrar's role is to oversee membership and engagement and to support the implementation of policies and goals. I am ready for that role.
References: Parfrey, P., & Davis, E. (2021, May 6). The Big Reset. Premier's Economic Recovery Team. Retrieved February 6, 2023, from https://thebigresetnl.ca/wp-content/uploads/2021/05/PERT-ExecutiveSummary.pdf
---
MEMBERS-AT-LARGE
Michelle Bavis
Michelle Bavis has been an educator for the past 23 years. She was English Department Head at Mount Pearl Intermediate for several years and is now in her third year as Assistant Principal at Mount Pearl Intermediate. Michelle enjoys her book clubs whether they are reading for pleasure or for professional learning. Michelle is an outdoors enthusiast who appreciates the time spent with her family and friends.
Wally Childs
Hello everyone. My name is Wally Childs, and I am the Principal of Stephenville Primary on the beautiful West Coast. I have 27 years experience as an educator, with 16 years of that as an administrator in this area. I have served as Regional President of SAC Region #4 for a number of years, and as Member At Large on Provincial SAC for the last 6 years. I believe SAC needs strong representation right across NL. I wish to keep working on issues important to all administrators during this time of transition from District to Department. On election day, I ask for your support.
Justin Noseworthy
My name is Justin Noseworthy and I am asking for your consideration as a candidate for the position of Member at Large for the Provincial School Administrators Council. I always consider myself to be a teacher first, and administrator second. My number one tool as a Teacher and Administrator has always been relationship building. This priority will never change.
Prior to entering School Administration I spent four years as a Physical Education Teacher. Over the past five years I have held several administrative positions in schools ranging in configuration from K-12, K-9, & K-6. I began my admin journey at Tricentia Academy in Arnold's Cove spending one year as an Assistant Principal followed by a year as Principal. My next move brought me to Holy Family Elementary in Chapel Arm for two years where I currently hold a perm contract as principal. This year I have taken a leave of absence from Holy Family to work as Assistant Principal at Holy Redeemer School in my hometown of Spaniard's Bay. This opportunity has given me the unique opportunity to leverage community connection and relationships as a school administrator. In addition to my leadership experience with NLESD, I am currently serving my second term as Member at Large for SAC Region 9 and sit on provincial council with School Sport NL.
My desire to seek election as Member at Large is grounded in my interest in advocacy for beginning administrators and early career administrators throughout the province. As an Administrator who will be around for many years to come, I feel my voice is valuable and representative of the needs our schools will face going forward.
If given the opportunity to serve on the Provincial Executive, I would like to prioritize the following:
Relationship and building and networking amongst administrators throughout the province, regardless of geographical location or school configuration. Administrators form a small portion of our profession. We must connect and unite.
Administrator wellness.
Professional development and mentorship for beginning administrators.
Advocacy for School Administrators to remain members of NLTA.
Our schools continue to face unprecedented stressors and emerging needs. By accepting nomination, I recognize the responsibility that is ahead and I am committed to advocating for all Administrators in our province.
Cathy Quinton
Mother of three wonderful young adults
Avid lover of outdoor activities such as Sea Kayaking, Snowshoeing, Hiking, Camping, love traveling to new places and exploring
Air Cooled Volkswagen enthusiast
Memorial University undergrad 1990 Physical Education/Education/Biology. Masters in Education 2009
Taught since 1990 various roles (Substitute, Term Replacement, Perm Teacher)
Coach of various sports, teacher sponsor for Skills Canada school teams
Traveled with students to various places in North America
Skills Canada Volunteer Video Production at provincial and national level for many years
School Administrator for past 13 years (Amalgamated Academy (VP), Ascension Collegiate (VP/P), Holy Redeemer Elementary (P) 2013-current
SAC region 9 executive involvement for 9 years (member-at-large & secretary)
Election statement
I would first like to offer my gratitude for the nomination for the SAC provincial executive as a member-at-large. I have enjoyed the camaraderie and participation as a member of SAC region 9 executive for several years as we worked to provide support and connection to the membership in the region.
Working together as an executive team, listening to our administration membership, discussing the multitude of challenges and supporting though professional development while advocating for change has been most rewarding.
I would love the opportunity to provincially support administrators and program specialists in our province in the capacity as a member-at-large on provincial SAC executive. No doubt important topics such as Administrator Workload, Collective Bargaining Health and Wellness/Mental Health and Substitute Shortage will be a few of the main focus areas on the agenda of the upcoming SAC provincial executive. I ask for your support as I offer my time and energy to serve you as member-at-large on the SAC provincial executive. Thank you.
Sheryl Ryan
My name is Sheryl Ryan and I have the privilege of being Principal at École Holy Family Elementary in Paradise, NL for the past 6 years. Previous administrative experience included Goulds Elementary (about 10 years), St. Kevin's High School and Villanova Junior High.  Prior to my roles in administration, I was a junior high/high school science teacher. I taught in beautiful areas such as CBS, Carmenville, Musgravetown, Avondale and Ferryland. My varied experiences have provided me with valuable knowledge of the K-12 school system in rural and urban areas of our province.
Over the years, I have learned the important role of NLTA in improving the lives of teachers, administrators and program specialists. NLTA and its varied special interest councils are key to improving our profession. I saw this first hand when I was involved in TESIC and when I served on SAC Region 10 executive as an at large member (2018-20).
I would like to continue the amazing, supportive work of our NLTA SAC group, which is why I am hoping to represent you as the SAC Provincial at large member.

 Alun Young
2011 – 2012: Principal, Epiphany Elementary School
2012 – 2014: Principal, Holy Cross Elementary School
2014 – 2018: Principal, St Bernard's Elementary School
2018 – To Date: Principal, Roncalli Elementary School
2018 – 2020: SAC 10 Treasurer
2020 – 2023: SAC 10 President
Fellow educational leaders, I am hugely excited to have my name put forward as a candidate for Member at Large for Provincial SAC. I am currently the proud principal at Roncalli Elementary in St John's, and this is my 15th year in administration and 12th as Principal. I am fortunate to have a broad range of educational experience and knowledge having worked in various countries. I am lucky to have led small and large rural schools, independent schools, inner city schools and large urban schools during my time as an educator. As such, I feel able to talk to, and understand, the myriad of challenges faced by those across our amazing system – whether it be recruitment on the west coast, retention in Labrador, or resourcing in Central.
I have had the honour of being involved with SAC Region 10 for the last several years, first as Treasurer, and then for the last three years as SAC Region 10 President. As a group we have worked extremely hard to advocate for our members, provide engagement opportunities, and rebuild our learning networks both during and after Covid. We have had a fantastic year so far of learning, connecting, and engaging with colleagues and we look forward to continuing this growth.
Over the next few years, we will be going through a tremendous change as our organisation is restructured. There are three areas that I believe are vital as we look to this transition. Firstly, it is key that we have a strong, unified, engaged voice to represent our goals and needs – this means that we need to elect a committee with a focus on member engagement and on rebuilding and supporting the regional representation which is the core of our existence. We also need to ensure that our voice speaks for both administrators and program specialists. Secondly, we need to continue to develop relationships, and work in cooperation with the many amazing organisations that are also involved in our system to benefit our educational leaders, and, in turn, their students. Lastly, we need to make leadership succession and development a primary goal. We have amazing people in our system, who find the transition to leadership daunting, and extremely challenging. Our goal should be to take the amazing knowledge that already exists within SAC and transition that to our aspiring leaders, while supporting our current ones.
Thank you, in advance, for your consideration.