Discount Program for Teachers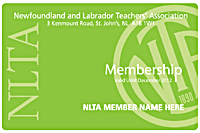 Don't Forget to Request Your Membership Card. You will be required to show your NLTA Membership card to obtain most of the discounts. Click on the image of the Membership Card to fill out a Request Form. Please Note: Membership Cards are ordered at the end of each month. Please allow 4-6 weeks for delivery.
To make searching more convenient, the discount items are searchable either by category, company or city/community. All are listed in alphabetical order.
Canadian Teacher Discount Guide - Savings Tips and Shopping Advice for Teachers
CPEAC
» Discount Program
» Travel Club
Teacher Discount List - Alphabetical Order
» SEARCH by Category
» SEARCH by City / Community
» SEARCH by Company
Hotel/Car Rental Discounts - Worldwide
Hotel savings may exceed 50% and average 10% – 20% below market rates at every hotel around the world.
Access online or call 1-844-858-6674 (code "NLTA")
Search every car rental supplier around the world for the very best discounted rates.
Access online or call 1-855-258-6735 (client ID "418389")
Please Note: The QSP Magazine Discount Program was discontinued in June 2019.