Beginning/Early Career Teachers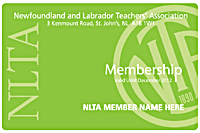 Don't Forget to Request Your Membership Card. Be sure and complete the Member Information form and then proceed to fill out the  NLTA Membership Card Request Form. PLEASE NOTE: Membership Cards are ordered at the end of each month. Please allow 4-6 weeks for delivery.
If new teachers wish to receive the new teacher information on a flash drive please send an email to: newteachers@nlta.nl.ca.