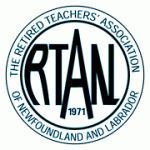 Retired Teachers' Association of Newfoundland and Labrador
---
PUBLICATIONS
The Retired Teachers' Association has compiled many publications over the years. There is a Handbook for New Members as well as Association and Division newsletters. Retired teachers can take advantage of the many discounts which are available to them. You will find them under the heading "Teacher Discount Program" below. If you are not already a member of the Association then be sure to complete your membership application form below.
• Memo re new Pre-Kindergarten Pilot Program (March 25, 2022)
• RTANL Membership Application Form [Fill Out Online] or [Print PDF]

• Biennial Award for Service Nomination Form
• Handbook for New Members
• RTANL Executive Report to BGM 2021 by Albert Legge
• Read the latest copy of the Teachers' Pension Plan Corporation Annual Report.
• Infosheet What Is This Coalition I Am Hearing So Much About?
• National Health Care Strategy for Seniors Campaign
• NEWSLETTERS
    * Association Newsletters
    * Division Newsletters and Information
    * Newsletter Submission Guidelines for publication of articles in the RTANL newsletter
• Teacher Discount Program – You must show your RTANL Membership Card to obtain these discounts
• Retired Teachers' Association Constitution and By-Laws
• Retired Teachers' Con-Tri Division Policy and By-Laws