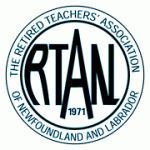 Retired Teachers' Association of Newfoundland and Labrador
---
About Us
 Retired Teachers' Association
The Retired Teachers' Association is comprised of a Provincial Executive as well as Divisional and Regional Presidents. The Provincial Executive are elected every two years at the Retired Teachers' Biennial General Meeting. Below you will find the names and contact information for the Executive and Divisional Presidents of the Association.
 Retired Teachers' Foundation
The Retired Teachers' Foundation has been in operation since 1987. Each year the Foundation chooses ten charities to support with funding based on contributions from Divisions and individuals. Read More …….