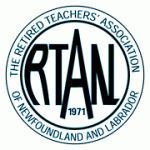 Retired Teachers' Association of Newfoundland and Labrador
---
DIVISION NEWSLETTERS
Below are copies of the Retired Teachers' Association's Divisions' newsletters. Divisional flyers and registration forms will also be posted here as they become available.
Please Note: Only the divisions that have published any newsletters / flyers are listed.
AVALON EAST DIVISION

……………

FLYERS & REGISTRATION FORMS

NEWSLETTERS

CENTRAL DIVISION

…………………..