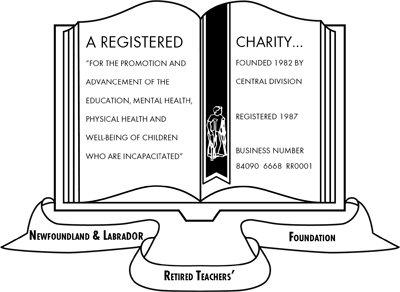 Retired Teachers' Foundation of Newfoundland and Labrador
---
Books of Remembrance for Deceased Teachers

Each year the Foundation chooses various charities to support with funding based on contributions from the Retired Teachers' Association's Divisions and individuals. These contributions are made to honour deceased teachers.  Information regarding the deceased teachers are kept in commemorative volumes titled "Books of Remembrance for Deceased Teachers".  Five books are housed at The Rooms in St. John's in the Provincial Archives Division. Starting in 2018 all future submissions are recorded for online viewing.
Three Books of Remembrance were donated to Archives by the chairperson of the Newfoundland and Labrador Retired Teachers' Foundation. An additional scrapbook was donated in 2009 and two additional Books of Remembrance in 2011. Two accruals for Central Division and Coast of Bays were received in 2012.
Fonds consist of commemorative volumes or Books of Remembrance, intended to commemorate the lives of deceased members of the Retired Teachers Association, the parent organization of the Retired Teachers Foundation. A memorial page is dedicated to each teacher and contains biographical information collected and prepared by members of the Foundation. The fonds include volumes containing biographies of teachers widely dispersed throughout the province and also volumes dedicated to teachers of the Central Division and the Coast of Bays.
The Books of Remembrance are arranged chronologically by year of death: Book one: 1986-1998; Book two: 1992-2000; Book three: 2001-2006; Book four: 2000-2010; and Book five 2005-2010. The data on individuals commemorated within each volume is arranged alphabetically by surname.
Books of Remembrance Volume 1 (1997) and Volume II (2011) dedicated to Yesterday's Teachers Central Division are arranged alphabetically by name. A Book of Remembrance dedicated to Yesterday's Teachers Coast of Bay Region 2008 is arranged alphabetically by surname.
Submit a deceased teacher's name for inclusion in the BOOK OF REMEMBRANCE by filling out the form online or printing a copy and mailing it to the address on the form.
At present there are five Books of Remembrance. Below is the information you will need to access these volumes at the Provincial Archives Division of The Rooms.
| | |
| --- | --- |
| TITLE: | The NL Retired Teachers' Foundation Fonds |
| DESCRIPTION NUMBER: |  MG159 |
| LEVEL OF DESCRIPTION: | Fonds |