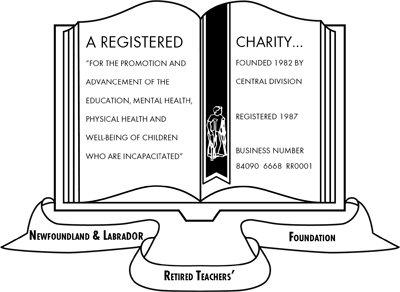 Retired Teachers' Foundation of Newfoundland and Labrador
---
NL Retired Teachers' Foundation for Children's Charities
Online Book of Remembrance
2011 – Onward
The Retired Teachers' Foundation has been in operation since 1987. Each year the Foundation chooses various charities to support with funding based on contributions from the Retired Teachers' Association's Divisions and individuals.
These contributions are made to honour deceased teachers.  Information regarding the deceased teachers are kept in commemorative volumes titled "Books of Remembrance for Deceased Teachers".  At present there are five Books of Remembrance housed at The Rooms in St. John's in the Provincial Archives Division. All future submissions for the Book of Remembrance will be recorded here for viewing online. Entries are in alphabetical order and in pdf file format.
Names of Deceased Teachers
Andrews, Martha
Babb (Reid), Jennifer Elizabeth
Baker, Roy Clarence

Ball, Ramona Frances
Barnes, Murdock James

Barter, Simeon Nathan
Bennett, Nelson

Blunden, Graham Warren
Bonaventure Ryan, John
Bouzane, Sister Mary Eileen
Bradbury, Goldie
Buckle, Anne

Bugden Howard

Bungay, James Charles Llewellyn

Burridge, Dana
Bussey, Douglas Goodwin
Carrigan, Margaret Rose
Carroll, Sister M. Paschal

Caul, Sister Eleanor
Chaulk, Samuel

Clarke, Donald
Clarke, Ronald Archibald John
Cole, Donald Patrick
Cole, Isabelle
Collins, Clide W.
Collins, Lillian M.
Comeau, Genevieve

Costella, Gladys
Costello, Mercedes
Costello, Sister Marilyn
Cranford, Roland Maxwell
Crawford, Sister Mary Casimir

Critch, Florence Nesta
Cumby, Jacqueline
Cutler, Nathan Stanley
Dalton, Douglas Wilmore

Dolomount, John Cootes
Doyle, Sister Teresa
Drake, Sister Mary Genevieve

Dwyer, Edna Anna
Earle, Hilda
Edwards, Sarah Barbara
Fagan, Rita
Fewer, Sister Tarcisia
Fleming, Patrick W.
French, Greta Elizabeth
Gillespie, Norman Joseph Kerr
Gosse, Sister Perpetua
Gray, Kathryn Mary
Green Smith, Florence Elvina
Greene, Angela
Greenland, Clayton

Gregory, Charles James

Griffin, Miriam
Harris, Sidney John
Hartery, Sister Columba

Hedderson, William
Hewitt-Barney, Margaret
Hickey, Sister Anne
Hiscock, Carol Ann
Hogan, Sister Shirley Mary Blanche

House, Ronald
Howard, Brother William
Hutchings, Sister Josette

Janes, Susie
Jennings, Beatrice Georgina
Jerrett, Enid
Johnston, Sister Rita
Kelly, Sister Mary
Kennedy, Francis A.
Kennedy, Sister Irene
Kennedy, Sister Mary Mark

Kennedy, Sister Mary Perpetua
Kenney, Dorothy E
.
Keough, John P
.
Kieley, Ronald J.
King, Dermot
King, James Ronald
King, Muriel Frances
Lahey, Sister Elsie
Langdon, Hubert
Leamon, Gladys Cora
LeDrew, Michelle
Legge, Catherine
Lévêque, Mary Patricia "Patsy"
Lidstone, Sister Catherine
Lively, Madonna
Maher, Sister Patricia
Maloney, Loretta T.
Martin, Bride
Martin, Lawrence James
McCormack, Bernadette
McGrath, Marilyn
McHugh, Sister Mary Thomasine
Mercer, Roy A.
Mooney, Sister Amelia
Moore, Sister Anastasia
Moore, Sister Sarah
Morris, Henry C.
Morrissey, Sister Rosalie
Moss, Michael
Mouland, Tobias Douglas
Muggridge Starkes, Katherine Pearl
Mullett, Emily
Mullowney, Sister Mary Thaddeus
Myles, Eric Stanley
Nash, Catherine Ellen

Newhook, Robert George
O'Gorman, Sister Margaret
Osborne, Sister Eileen