spa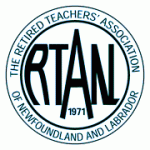 Retired Teachers' Association of Newfoundland and Labrador
Sixteenth BGM and Reunion

"Retirement – Setting a New Course"
October 6-8, 2020 • Greenwood Inn & Suites • Corner Brook
REGISTRATION FORM

---
EARLY BIRD registration deadline is August 28, 2020.
All persons registered by August 28 will be eligible for one of two Early Bird Draws. Deadline for refund requests is October 2, 2020.
e  Deadline for Registration is September 25, 2020 8
Reunion Fee (per person): $30.00  (no meal provided on Tuesday evening)
RTANL members 80 plus years of age and guest receive complimentary registration.
Accommodations
Individuals must make their own arrangements for accommodations. The RTANL has booked a block of rooms at the Greenwood Inn & Suites, Tel: 709-634-5381 or toll free at 1-800-399-5381. When you reserve, please request RTANL rates.
TENTATIVE AGENDA
Tuesday, Oct. 6
 

Wednesday cont'd

3:00-5:00 p.m.
Registration
11:00 a.m.
Service of Thanksgiving
7:00-9:00 p.m.
Meet and Greet with Finger Foods
12:00 p.m.
Lunch (for members and guests)
Wednesday, Oct. 7
Thursday, Oct. 8
9:00-10:30 a.m.
First Business Session
9:00-11:00 a.m.
Completion of Unfinished Business
---
For more information contact:
RTANL c/o Clayton Rice
3 Kenmount Rd.,
St. John's, NL
A1B 1W1
Tel: 709-782-8914
Email: clayton@warp.nfld.net
---