spa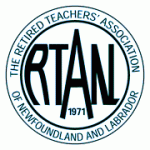 Retired Teachers' Association of Newfoundland and Labrador
BGM and Reunion 2022

"Celebrating 50 Years"
October 4-6, 2022 • Greenwood Inn & Suites • Corner Brook
REGISTRATION FORM

---
e 

Deadline for Registration is August 31, 2022

8
All persons registered by July 28 will be eligible for one of two BGM/Reunion Draws.
REGISTRATION FEE:
At our recent Provincial Executive Meeting it was decided that because it is our 50th Anniversary Year
REGISTRATION FEES for all Members AND Guests will be WAIVED!
(Note: no meal is provided on Tuesday evening.)
ACCOMMODATIONS:
Individuals must make their own arrangements for accommodations.
The RTANL has booked a block of rooms at the Greenwood Inn & Suites, Tel: 709-634-5381 or toll free at 1-800-399-5381.
When you reserve, please request RTANL rates.
Please BRING a picture with you: What were you doing in 1971?
Prior to BGM 2022, all Registrants will receive a BGM 2022 package by mail.
For more information contact:
RTANL c/o Clayton Rice, 3 Kenmount Road, St. John's, NL A1B 1W1;
Tel: 709-782-8914; Email: Treasurer@rtanl.ca
---