spa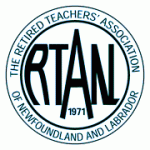 ce
Retired Teachers' Association of Newfoundland and Labrador
Fifteenth BGM and Reunion

"The Past Shapes Our Future"
October 2-4, 2018 • Holiday Inn • St. John's
REGISTRATION FORM

---
EARLY BIRD registration deadline is August 24, 2018.
All persons registered by August 24 will be eligible for one of two Early Bird Draws. Deadline for refund requests is September 28, 2018.
e  Deadline for Registration is September 21, 2018  8
Reunion Fee (per person): $50.00  (no meal provided on Tuesday evening)
RTANL members 80 plus years of age and guest receive complimentary registration.
Accommodations
Individuals must make their own arrangements for accommodations. The RTANL has booked a block of rooms at the Holiday Inn, Tel: 709-726-0506 or toll free at 1-800-933-0506. When you reserve, please request RTANL rates.
TENTATIVE AGENDA
Tuesday, Oct. 2
 

Wednesday cont'd

3:00-5:00 p.m.
Registration
11:00 a.m.
Service of Thanksgiving
7:00 p.m.
Opening of BGM/Invocation
12:00 p.m.
Lunch (for members and guests)
8:30 p.m.
Social Hour
Speakers: Mary Ennis & Gerard Yetman
Finger Foods and Cash Bar
1:30 p.m.
3:30 p.m.
7:00 p.m.
Retired Teachers' Foundation AGM
Visit to The Rooms (no cost)
Dinner and Dance (Guest Speaker: Mr. John Norman)
Wednesday, Oct. 3
Thursday, Oct. 4
9:00 a.m.
BGM First Business Session
Introduction & Election of Candidates
for Provincial Executive 2018-2020
9:00 a.m.
Completion of Unfinished Business
Speaker: Teachers' Pension Plan Corp.
Completion of Evaluation Forms
---
For more information contact:
RTANL c/o Clayton Rice
3 Kenmount Rd.,
St. John's, NL
A1B 1W1
Tel: 709-782-8914
Email: clayton@warp.nfld.net
---